How Can Foam Roof Coating Help Keep
Your Home Warm And Cozy?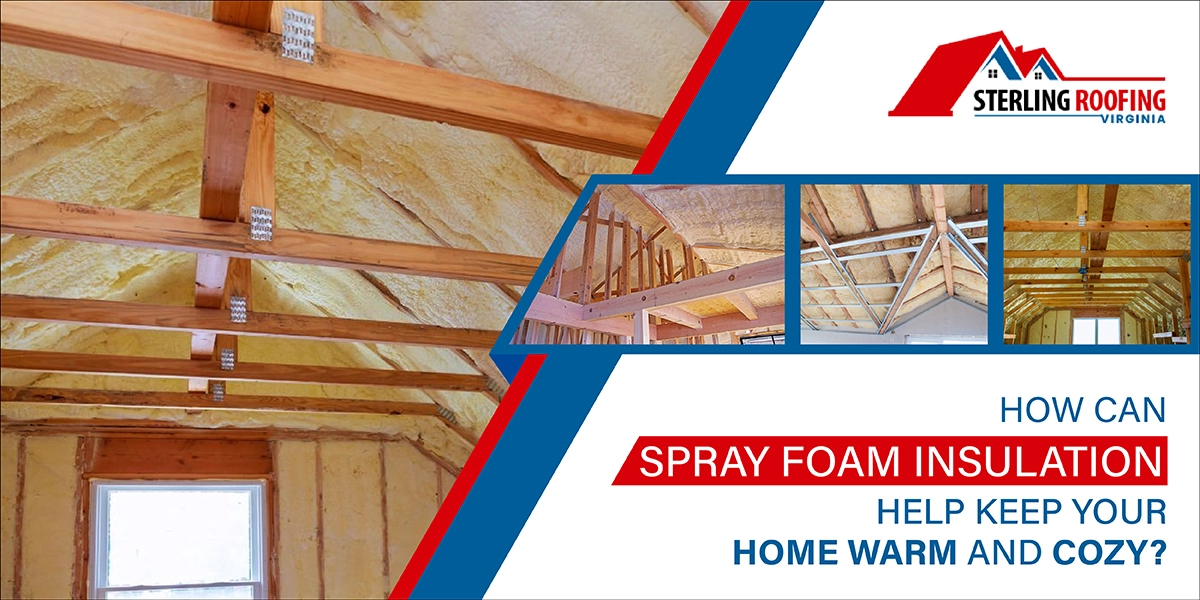 Poor insulation can make your home uncomfortable, especially during the cold season. When the temperature drops, your home may lose heat more quickly, and you may notice cold draughts in your home. As a result, you may need to use the heating system for a prolonged period, which can lead to higher energy bills.
On the other hand, in summer, a lack of insulation can allow the heat to easily enter your home. So, it'll get warmer, necessitating overusing the air conditioning. Again, it'll lead to high energy bills. Thus, timely re-insulation from an experienced roofer in Alexandria, VA, is essential to keep your home cozy and comfortable in every season.
But which roof insulation should you install? There are various insulation materials available on the market for all kinds of insulation needs. However, if you want hassle-free insulation installation, spray foam insulation is the preferred option for most homeowners.
Why Choose Spray Foam Insulation?
Reinsulating your home with spray foam insulation is an excellent choice, as it's ideal for any weather. Adding a foam layer to your existing roof is the easiest way to improve your home's energy efficiency. Not only is it cost-efficient, but it also provides a wide range of benefits that make it a desirable choice.
Top Benefits of Choosing Spray Foam Insulation
1) Prevents Air Filtration
The foam insulation can easily cover any gaps or cracks in your roof. Thus, even if there are any hidden gaps in hard-to-reach areas of your roof, those will be airtight with spray foam insulation. All the nooks and crannies of your home will be safe from hot or cold weather changes. It will minimize unwanted air filtration that's reducing your home's energy efficiency.
2) Increases Energy Efficiency
Spray foam insulation undoubtedly performs the best when it comes to increasing the overall energy efficiency of your home. It is highly effective at adjusting to hot or cool temperatures and keeping your family warm and cozy.
The foam creates a strong barrier to preserve the heating/cooling inside the home. In addition, the foam doesn't let outside changes in temperature affect the inside, maintaining a consistent temperature. Thus, you should hire professional roofing services for reinsulating your home to ensure optimum comfort.
3) Blocks Moisture
Moisture penetration is a serious issue. The risk of water seeping through the roof and walls is highest during severe rain and snowfall. It can create the ideal environment for mold and mildew to grow, which can deteriorate your home's appearance and structural integrity.
However, foam insulation is excellent at blocking moisture and preventing mold and algae growth. It is ideal for installation on all kinds of roofs, including sloped and flat roofs.
4) Has a Long Lifespan
Foam insulation is pretty durable and has a long lifespan. In addition, proper maintenance and roofing repairs from time to time can extend its life expectancy. Generally, getting roof repair services and maintenance annually from a licensed roofing contractor is enough to ensure your roof and insulation are in top condition. Thus, it will strengthen your roofing system and ensure the well-being of your home and family for many years.
5) Less Risk of Allergens And Health Risks
Foam insulation is a sustainable material. It is suitable for installation in houses where any family members are sensitive to allergies. Unlike fiberglass roof insulation, which has some health risks, spray foam insulation does not bring many health risks. Moreover, it is a pest-resistant material that prevents insects from entering your home.
Insulating your roof is crucial for any type of roof, whether you live in Alexandria or any other nearby town in Virginia. Roofing corporation with a team of experienced and fully licensed roofers should be your first choice in that case. So, when you need roof insulation installation services, let our professionally operated business handle your roofing issues.
Need Expert Assistance from an Experienced Roofer in Alexandria?
Roofing contractors at Sterling Roofing have worked on a wide range of roofing repair projects across Virginia. From complete roof replacement and repairing flat roofs to new roof installation, we are well-equipped to handle all kinds of roof-related projects.
We use the highest quality roofing materials for roof repairs, maintenance, and installation. In addition, our roofing contractors are highly knowledgeable about all the local roof construction codes. Our team specializes in resolving complex roof problems. Therefore, when you are looking for the leading roofing companies in Virginia, we are your trusted and reliable roofing company.
If you need quality roofing services at competitive rates, get in touch with our experts today!