Follow These 8 Tips and Keep Your Roof in Peak Condition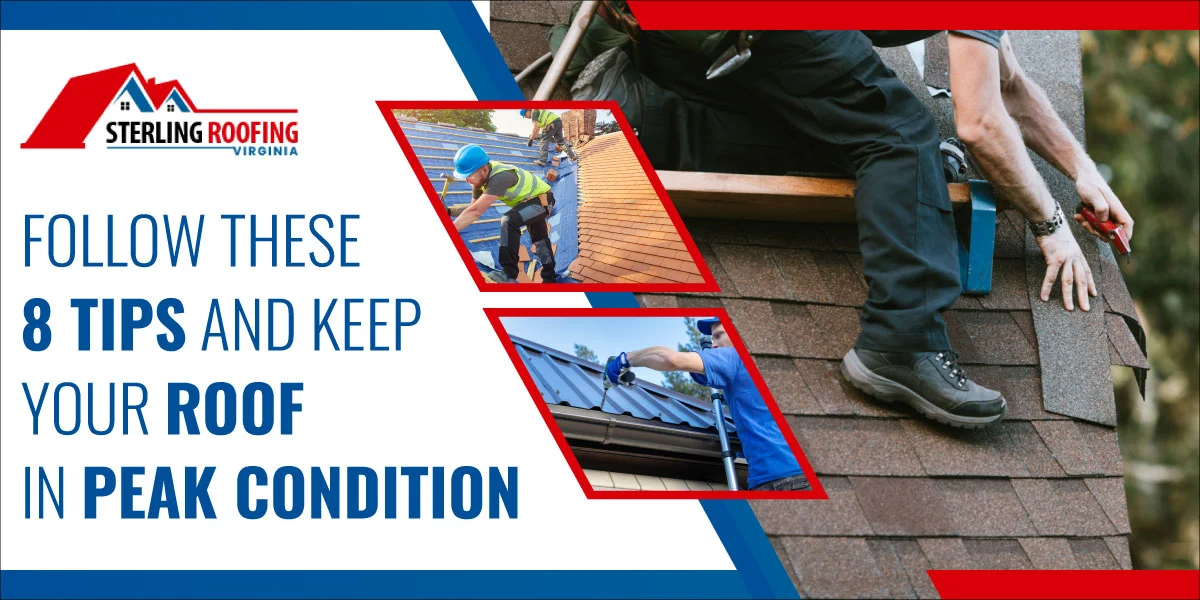 While every homeowner takes pride in their well-built residence, not everyone understands the important aspects that are required to keep it in the best condition. And without the right level of care and maintenance, the place can quickly become a nightmare.
One of those essentials is your roof. When it comes to roofing, even a small issue can make the biggest impact. Therefore, the question arises: how to take care of the roof when you don't even know the exact problem?
In that case, timely inspections and roofing maintenance from a reliable roofing contractor in Fairfax, VA such as Sterling Roofers can be the right move. A professional roofer can help identify the core issues and prevent roofing problems to make your roof last longer.
Additionally, you should put a little bit more effort into roof maintenance to help ensure your roof lasts as long as it's expected or perhaps even longer than its service lifespan.
Here are the top roofing issues and maintenance tips to help you keep your roofing system in top condition:
Roof Maintenance Tips For Virginia Homeowners
Don't Let the Trees Come Close To The Roof
Although tree branches near your home can create a beautiful landscape, they can cause serious problems. Limbs and branches that fall during a storm can damage your home immediately and make it easier for squirrels and other animals to enter your home.
Thus, one of the best tips for maintaining a roof is to remove all threatening branches. When shrubs and other landscaping grow a little too close to your house or roof, trim them back a few feet to ensure they won't cause any problems.
Clean The Debris From The Gutters
Every season brings waste that can get into your gutters. If water can't be completely drained from your gutters, it can cause a number of problems, from your basement to your roof. Thus, keeping your gutters clean and free of blockages throughout the year is essential to roof maintenance.
You would also want to ensure that trees and other landscaping on the ground leave enough space for your gutters to properly drain water from your home to avoid damaging your foundation. For this, you can clean the gutters yourself or call our professional roofing maintenance team in Fairfax, VA, as per your preference.
Snow Is Fun, But Don't Let it Buildup!
Snow can be fun to play with, but a heavy pile of snow on your roof can lead to many unpleasant problems. For example, if you have an old, worn-out roof, heavy snow can cause water damage to the roof as it melts. Moreover, the weight of heavy snow can threaten your roofing system's structural integrity.
Therefore, it is crucial to remove snow from your roof after a snowstorm. This will help reduce the weight of the snow on your roof and reduce the risk of it collapsing. Additionally, you should opt for a seasonal inspection from a professional roofing contractor in Fairfax, VA for roof cleaning and other repairs.
Replace Cracked/Missing Shingles
Although roofs are built to last for years, strong winds and hurricanes can be powerful enough to damage even the strongest building systems. The constant exposure to such weather conditions can affect your roof shingles and cause them to become brittle.
Thus, any cracked or damaged roof shingles should be replaced timely. If these are left untreated heavy rains or snow storms can bring additional issues to worsen the situation. Therefore, it is best to take a few minutes to inspect your roof to identify areas where shingles may be missing or damaged.
Additionally, reaching out to roofing companies in Fairfax, VA to inspect your home can also help you anticipate potential damages down the line.
Beware Of Moss, Mold, and Algae
Algae, moss, or mold, can damage the structure of your home and cause significant damage that can lead to expensive repairs. Although they may not severely impact an asphalt roof, they can severely affect a roof with wooden shingles.
Algae, moss, and spores can easily spread throughout your roofing system if left undetected. It usually results from water seeping through the layers of your roof system. So if you see any such signs on your roof, you may have a hidden leak or moisture problem in your roofing system.
In that case, you can try spraying a mixture of bleach and water on all the affected parts of your roof to clean it off. However, if the issue has spread widely, it might be more convenient to reach out to a roofing company for professional mold removal and roof repairs.
Lookout for Leaks in the Attic and Ceiling
While a visual inspection of the exterior of your roof will tell you a lot about the health of your home, you may not be able to see all underlying issues, such as hidden leaks, from the surface.
Thus, you should look out for any signs of water or water damage. And, if you see signs of water damage, water stains, or moisture on the ceiling, call a professional roofer for a quick inspection before the damage gets worse.
Opt for Regular Roof Inspection
One of the best tips for roof maintenance is to have a professional roof contractor perform a thorough home inspection. As a homeowner, you can conduct a visual inspection from time to time, but you may miss the hidden/underlying signs of damage or decay that a professional from Sterling Roofers will notice immediately.
So, if you want your roof to last as long as possible, consider consulting with our roofing experts for a home inspection once or twice a year.
Ensure Proper Insulation in Roofs
A poorly insulated roof can result in poor heating and energy efficiency throughout the house. Upgrading your attic with the right insulation will help you save energy while keeping your home at a comfortable temperature.
When installed correctly, roof insulation can result in more energy savings while reducing your carbon footprint and making your home more energy efficient.
If you have opted for Sterling Roofers as your roofing contractor in Fairfax, VA, then you don't have to worry about your energy savings and can relax in your perfectly cozy and warm home.
Did You Check Your Roof Recently?
If you haven't examined your roof's condition, now is the right time. You can give a call to Sterling Roofers and schedule a visit with one of our experienced roofers, who can perform a detailed inspection and help you take care of your roof.